I have a car. His name is Carl. We have been together for 103,412 miles. He's my pal. I named him Carl in anticipation of him becoming a junker. Sorry to anyone named Carl or who loves someone named Carl, but I thought it was a good deadbeat name "Dammit Carl!" and "Carl is several months behind on child support" all seemed to make sense. So for 7 years, Carl and I have been together and he has yet to turn into a deadbeat. In fact, he is still rather adorable, Carl likes dandelion seeds (and skulls if you can see the one on the dashboard).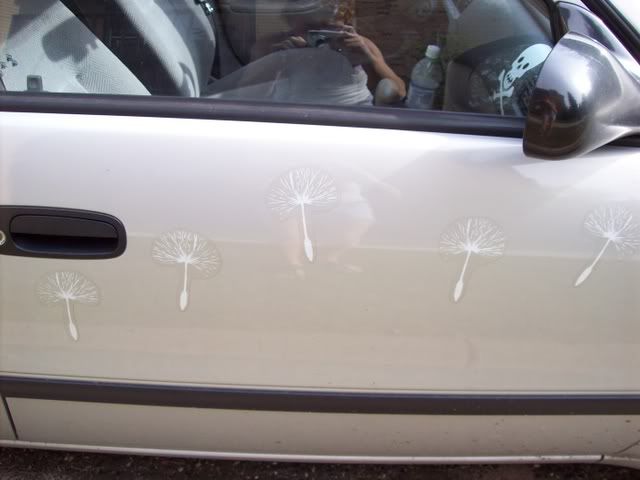 Carl likes ants.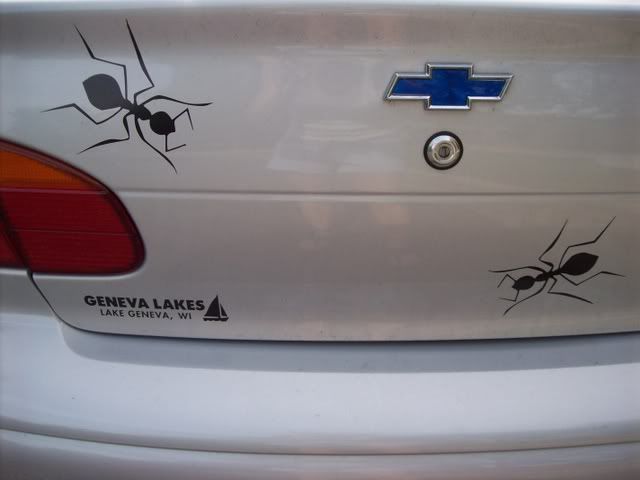 Carl however, has a problem with bullies. He was fine for the first 5.5 years. Now, he is just a nerd in gym class, waiting for the beatings. So about a year and a half ago, Carl got hit while parked on the street. I was dropping off a friend and still doing the "what are you doing later" convo. A guy turning into his grandfather's driveway in a HUGE pickup, almost ripped the front bumper off when he turned too sharply in his new truck. He had a friend who worked at a body shop, with a business card and everything, so I didn't call the police or report it to his or my insurance. Carl was repaired while I was in Chicago and it was all good. Also, this particular fellow had the last name Pimpkin. I laughed. Carl did great with his new front bumper until this January. I was stopped at a red light in Uptown, waiting to turn right, but had to wait until the pedestrians crossed first and was smacked from behind by a chick on a cell phone. Damn. Again, Carl was repaired and I had a brief affair with a rental car. Then, about 2 months ago, someone hit my car while it was parked on Hennepin Ave sometime between 2am and 10am. They scraped up the side a little and somehow managed to rip the plastic cover off the driver's mirror without taking the mirror itself out. Leaving Carl like this...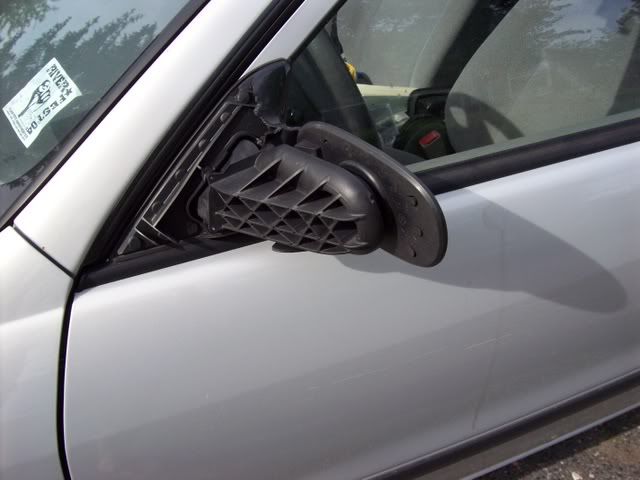 Now, last night I was at Salsa a la Salsa for a friend's birthday and parked my car at a meter. Sometime in the hour and a half while I was inside this happened!!!
GEEZ! and we didn't even notice at the time. Ryan was driving and went around the front to get in. I got in the passenger side so didn't see it. The two friends who sat in the back also got in on the passenger side so as not to be out in traffic and thus didn't notice. It was only when we got to Ryan's house when he noticed. Double damn. Oh well, Carl shall be repaired and our love affair will continue. But NOTICE to all bullies. Carl has had his hard knocks. Leave him alone. PLEASE?
and P.S. this is the abbreviated story of Carl's abuse. There have been SEVERAL other little accidents that are not in this tale. I'm none too fancy and neither is Carl. I don't mind some scrapes and dings and the big ones that are acquired in parking lots while I am not there are covered in touch up paint and slapped with a 89.3 The Current sticker over the really big scrape...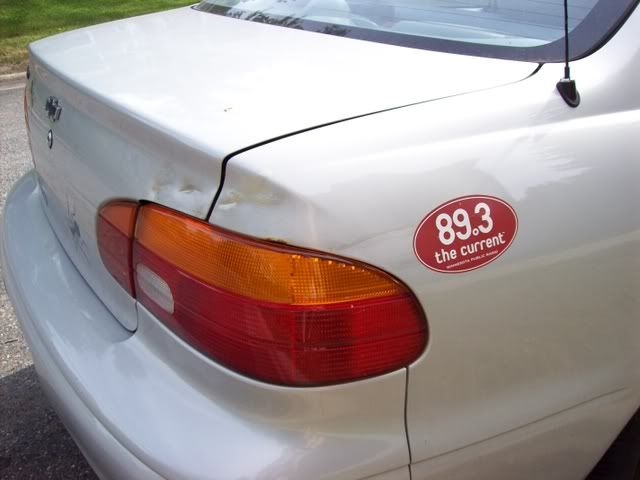 Anyway, later and give your cars some lovin' for me and Carl!!!