Love of my life #1
Sparta bike.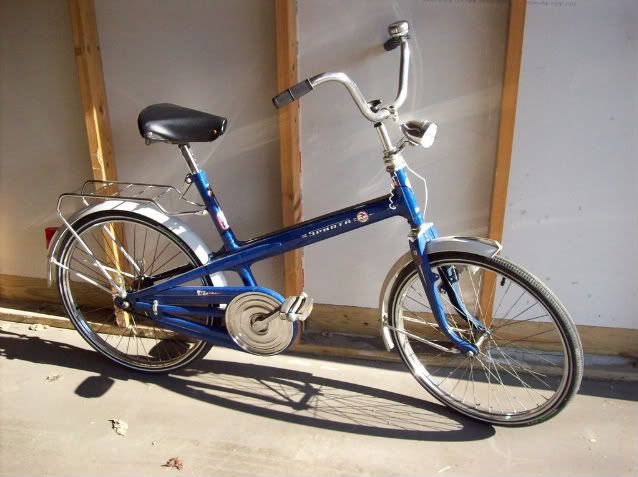 My dad bought it for his mother (my grandma) in 1970 while working at an exotic bike shop... it was made in 1969 in Amsterdam and I am in love with everything about it. It has a built in generator that you just push against the front wheel and it makes the light and brake light work! Who needs batteries when you're using leg power anyway? It has a cute built in lock which I wouldn't trust around Minneapolis, but love that it has one anyway. You push this little stick in and (a key pops out for you to take), the little stick gets in the way of the wheel spokes, so the tires can't turn and no one can push or ride away on your bike. Neato-torpedo! Those dutch really know their bikes! Of course it is in mint condition cause my grandma never rode it more than like twice and it has been in the attic ever since. I rescued it like 3 years ago and my love goes on and on.
Love of my life #2
Long plaid skirt. I found this at a thrift store in Nordeast Minneapolis and it fit perfect, it is so comfy, it feels like I'm wearing nothing at all... it's just so flowy and movable. I can do the Karate Kid style crane kick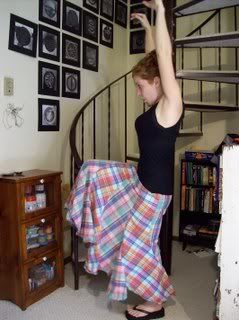 and it twirls great.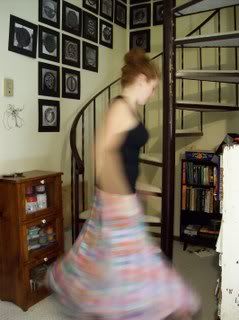 I can dress it up or dress it down and I've gotten very attached to my $4 skirt.
Anywhoo, Ryan is out of town so I will try to post more. My life has not been too happening lately. Waitressing, bartending, driving the beer cart, etc. Baseball Sunday was good, Ryan bought a new bat and I kick ASS with it. It's amazing. I am going to go see a bunch of short films with my friend J-Rod tonight. Some 48 hour film festival thing he was involved in where they have 48 hours to write, film, edit, etc a short film. His is a western... um, ok. Laterzzzzzz